When choosing an LED screen for an event (conference, shows, conventions or mass meetings), whether rented or purchased, it must be defined according to the location, its function and the viewing distance, among other factors.
These displays look great in portrait or landscape orientation, indoor or outdoor, offering superior image quality in a variety of sizes (from 10 "to 96" or more). With or without WebOS integration interface, with data transmission through local network or WiFi.
Which, in turn, allow the transmission of texts, images, videos, RSS and it is very easy to reprogram their content.
Led Nation has a screen for each event, which adapts to the needs and wishes of each client.
Considerations for choosing the best LED Display for events
Led Nation presents a series of items as a guide, essential when selecting the best screen for an event:
Interior or exterior; depending on the resistance to water, the climatic of the exteriors, etc. Exterior screens will have a higher price than those of interiors.
Size and type of support; The dimensions of the screen and its measurements also change the characteristics and types of support used, because the larger the size, the stronger the support that is required.
Location (height and proximity to the audience).
Installation method and times. That may vary according to the event, especially when renting the screens, a temporary type of installation is made or in the case that it is a screen definitively acquired by the client, it is installed with permanent supports and means.
Brightness; is essential when choosing a screen for your event, so that it impacts without damaging the public's view, having an unbeatable experience.
Space or place where the screen will be installed
When deciding the height of the LEDs, the main thing is to know and identify the uses that you want to give it in the event, if you want:
Interactive floor: what is generally used; for games and virtual reality experiences.

LED staircase: which we can normally see in bars or pubs.

Stage (with the possibility of being curved): in all those musical events and live shows.

Led ceilings: to accompany the stage or party lighting.

Special designs: that allow to vary the format of each panel adapted to the client's taste, for example by forming Led pillars.
Each achieves a wide variety of experiences and interactions, as well as multiple impacts and effects on the audience.
The distance from the audience to the screen
Having a screen located in the correct place and at the correct distance from the audience, can offer you the performances or exhibitions that take place in a museum, theater or cinema or it can even provide interactions at all times before, during and after the event.
They are ideal devices to be installed in musical events, stadiums, routes, outside of commercial premises, information points and also in meetings of different kinds.
Capturing the attraction of the entire audience and future clients.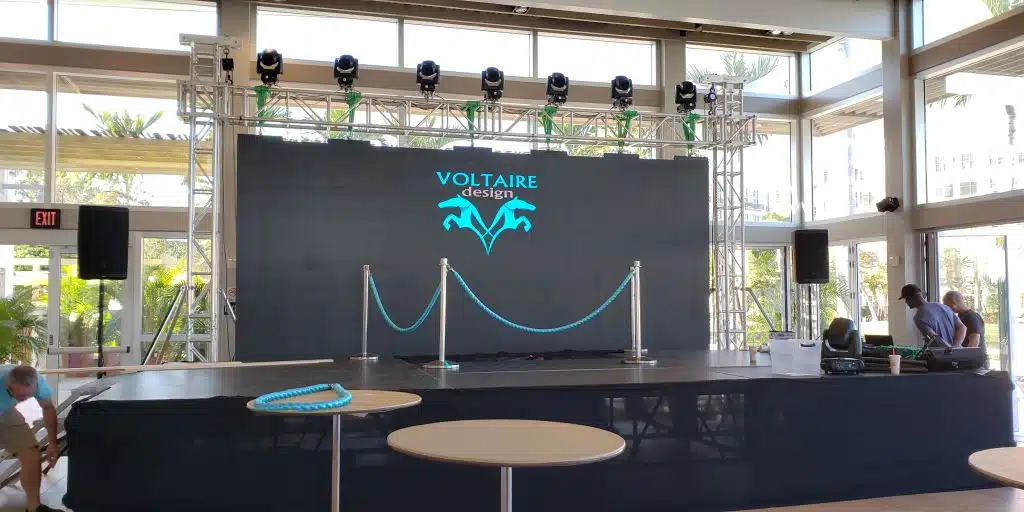 The service offered by the seller
The experience both in the sale and rental of LEDs in the USA, allows us to provide an adequate service to each client for maximum satisfaction, with products of a high technological level, and providing a great value for money with the possibility of financing the equipment..
Led Nation has its own engineering at the service of customers, developing, selecting and innovating the best products adapted to different business channels. It offers both standard solutions for distribution and customized turn-key projects, guaranteeing after-sales service and technical support.
Both in the large-format screen sector and in the field of lighting, each Led panel represents quality and service at very competitive prices, as endorsed by the portfolio of highly prestigious clients who have trusted Led Nation for years.
The reputation of the company supplying the displays
The true goal of Led Nation is to fulfill the wishes and expectations of the client, not only when acquiring or renting a screen, but also the services that are provided before and after sales. Through google maps platforms you can see the reviews made by Led Nation users or clients (marked with stars and their comments). And in an accurate way, know the reputation of the company, the quality of the products and services it offers.
Ease of assembly and installation
All screens require a correct installation so that damage does not occur in the panels and ensure their operation. And those of Led Nation are characterized by being:
Light: This type of screens are used continuously in multiple events and trade shows, so it is a priority that, to facilitate transport, these screens are light and easy to handle and store.
Easy to assemble and disassemble: These screens are designed so that their assembly is really simple and fast, without the need to use external tools for their assembly. Its studied joining mechanisms join multiple cabinets with a simple click, creating a single screen once joined.
Types of screens and models available
In the USA a wide variety of Led panels is offered, but without a doubt, Led Nation screens are the best option, since it combines price-quality so that the customer feels accompanied from the first moment, when they inquire about a screen of these features.
LED screens are devices that offer great flexibility and LED Nation has a wide catalog of products that can be adapted to any content display need: from informative texts to video playback. There are also modular ones, which can be easily adjusted to any area and size, and there are even creative proposals that can be adjusted to curved places or surfaces with complex shapes.
It has everything you need to make your event stand out: LED screens, LED monitors, decorative LED spots, DJ booths. Ideal for corporate events, political events, social events, parties, parades, concerts, exhibitions, presentations, stands, theaters, cinemas and led walls for virtual productions.
Where we offer our services
Alabama

Alaska

Arizona

Arkansas

California

North Carolina

South Carolina

Colorado

Connecticut

North Dakota

South Dakota

Delaware

Florida

Georgia

Hawaii

Idaho

Illinois

Indiana

Iowa

Kansas

Kentucky

Louisiana

Maine

Maryland

Massachusetts
Michigan

Minnesota

Mississippi

Missouri

Mountain

Nebraska

Nevada

New Jersey

New York

New Hampshire

New Mexico

Ohio

Oklahoma

Oregon

Pennsylvania

Rhode Island

Tennessee

Texas

Utah

Vermont

Virginia

W.V.

Washington

Wisconsin

Wyoming