Within the world of entertainment and audiovisual productions, the use of LED screens is essential. Every show and program with audiences or spectators, today use LED screens, as they have proven to be the fundamental tool for the success of the show.
In recent times it has been possible to see a progressive and exponential increase in the use of these Led panels in the broadcasting area due to their transforming capacity of television environments and spaces.
LED Video Walls for Studio Tv, Film & Broadcasting
The production companies of television channels, films and broadcasting media are in charge of selecting the ideal Led screens for transmission of content and recordings. They choose Led Nation's Mirackle displays because they contain:
Fair shine; Compared to the rest of the screens, it is smaller, but indicated for television studios without diminishing its image quality in working capacities.
High refresh rate: Fundamental requirement in television Led panels that allows to renew the image for all brightness levels and without flickering, achieving a realistic image. The higher the refresh rate, the better image quality will be obtained, and the Led Nation video screens are prepared to do so.
Design and creativity: adapted to production needs. Each Led screen has the flexibility and ability to modify its size and shapes, allowing each environment and stage to be modulated in each environment or stage, creating video background effects of any varied size and shape.
High pixel density: allows each transmission of moving images to appear smoother and clearer, even at close range.

It is a crucial element for Led Nation to offer panels with high refresh rates, especially on these screens that are oriented to shows or television media. They require synchronization with professional cameras and recorders, so that each video can be seen perfectly.

Offering modular floor support for this type of panels (Mirackle) allows it to be installed anywhere (indoor / outdoor) quickly and safely..

Silent and low heat emission: each led panel has a designed cooling system without ventilation, so that the equipment does not overheat; (which could damage it) silently.
LED Screens is the future of broadcasting
Led Nation screens are already the future of high resolution audiovisual content transmission.
They revolutionized broadcasting content, programs and complete film productions, videos and even the events industry.
Since 2018 there has been an exponential increase in the use of Led Screen to make complete video productions, within a wide variety of content and creating new virtual scenarios that replace the use of old chroma.
Thanks to technical and technological advances in the audiovisual industry, it has been observed that by combining LED screens with camera monitoring and virtual production elements, unbeatable experiences are obtained in each broadcast.
Digitalization as the best choice for tv studio applications
Live television programs are increasingly competitive as they use video walls of digital technologies to display photos, graphics, maps or videos. And they grab the viewer's attention instantly, allowing production to model and vary broadcasts at the same time.
The quality, size, adaptability and ease of use of led panels with digital technologies, revolutionized audiovisual media, rapidly replacing the LCD format in all television studio broadcasts in the world.
LCD was a type of screen that was used for many years that was improving different aspects in its image, durability and quality, but LED panels are definitely better. Today they are technologies that are at the forefront of large format display technology. Providing unique digital content, without cuts or seams.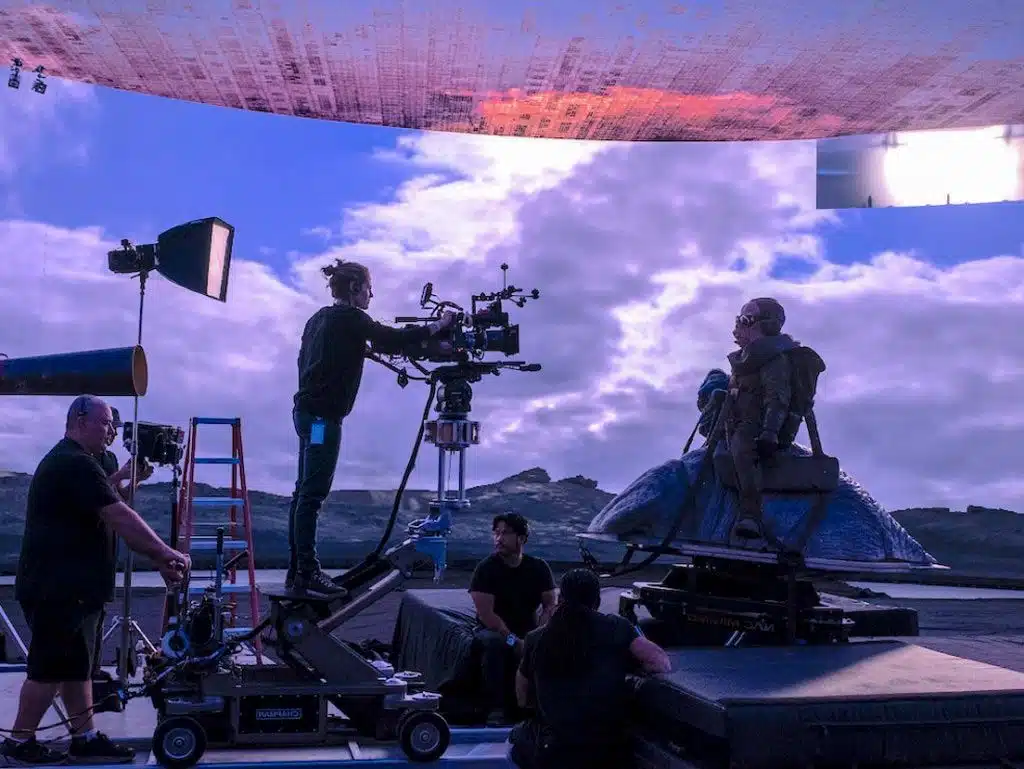 Improving the precision and control of color, display, axis, higher contrast, faster refresh rates, brightness control, and image uniformity throughout the useful life.
As if that were not enough, each large-format Led Screen allows you to design and build custom content, configuring its shape and even regulating the curvature of the panels to create unique visual experiences. Adapted to the desire of each client, on any surface.
They create unique spaces, giving the production company the freedom to express creativity and attract more viewers with impressive images. All through more vibrant and durable video walls.
Full package of Led walls for virtual productions, stages and tv studios
Led Nation is the leading American company in the rental and sale of LED Wall for Virtual Productions, cinema and TV; since in addition to the quality and durability of its devices, it also provides a premium pre and post sale service.
From the client's consultation, guided by technical advisers willing to provide the best service, according to the client's desire. Tools and technologies such as varied supports according to the use that you want to give to the LEDs adapted to each space, be it a television program, cinema, stage backgrounds, conferences and other audiovisual content that capture the attention of viewers with high image quality.
And an after-sales service that guarantees each customer what Led Nation calls Key Solution; implies the acquisition not only of a set of panels but also the solution to your processes of:
Custom installation

Remote configuration

Technical support available

Immediate transfer

Systems with the best quality of NovaStar processors

Spare parts and replacement parts
 Adjusted to the needs of the client and their project, who is recommended from the first moment by Led Nation's commercial advisors when selecting the best screen for their event and arrangement.
 Along with the purchase of the Key Solution, the after-sales service is also acquired, which includes corrective and preventive maintenance of the panels (if necessary in the event of any damage) as well as the option to buy or rent accessories. Finally, to provide the best service to each client they offer a 24-month guarantee. 
Where we offer our services
Alabama

Alaska

Arizona

Arkansas

California

North Carolina

South Carolina

Colorado

Connecticut

North Dakota

South Dakota

Delaware

Florida

Georgia

Hawaii

Idaho

Illinois

Indiana

Iowa

Kansas

Kentucky

Louisiana

Maine

Maryland

Massachusetts
Michigan

Minnesota

Mississippi

Missouri

Mountain

Nebraska

Nevada

New Jersey

New York

New Hampshire

New Mexico

Ohio

Oklahoma

Oregon

Pennsylvania

Rhode Island

Tennessee

Texas

Utah

Vermont

Virginia

W.V.

Washington

Wisconsin

Wyoming