The Big LED Walls in stages are, without a doubt, a very modern solution for multiple uses. 
Conferences

Events

Live transmissions

.  
This type of technology has many advantages:
Easy to install

Convey excellent image quality

Its performance can be improved in simply 

They are efficient and economical
LED display for stages: what do I need to know?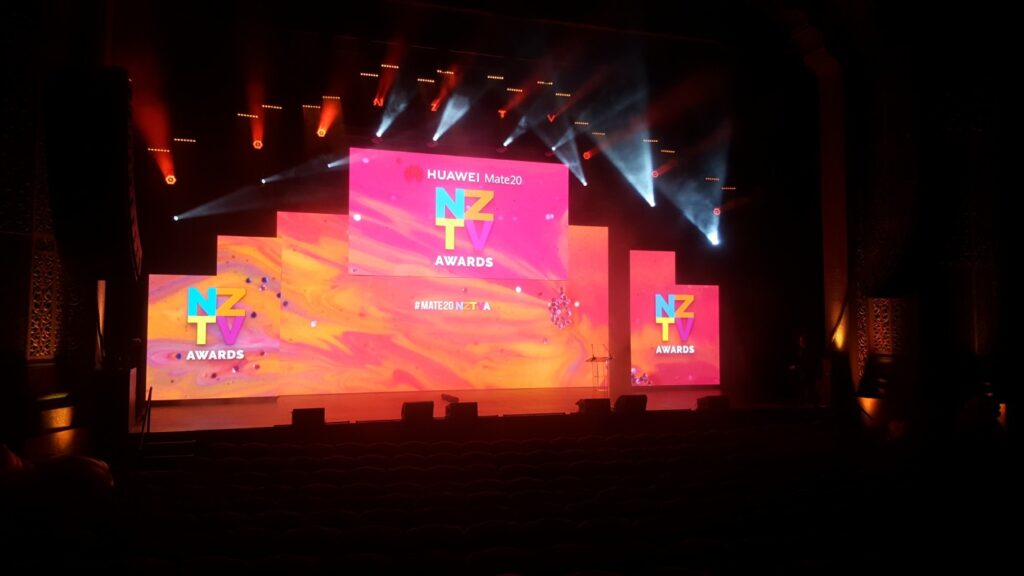 Because of the high level of visual impact they produce, Video Walls for stages are particularly appealing among the various models on the market. They are also easily adaptable to all possible uses, whether outdoor or indoor LED screens and for the various types of events that can fully utilize all of their benefits.
The main goal is to give the audience a genuine visual experience. On the other hand, it can clearly and forcefully convey the desired message or information.
Some of the events that can benefit from this technology are as follows:
Concerts

Charity events

Conferences

Sporting events
Indoor Video Walls are ideal for use in both temporary and fixed scenarios. There are models specially developed for these purposes and can be used for example in:
Theaters

Conventions

Advertising stands

Indoor concerts
Outdoor Scenic LED screen
Manufacturers, on the other hand, have created Scenic Outdoor LED screen models. These, for example, are made of materials that are resistant to material conditions and waterproof. As a result, they can withstand outdoor use without difficulty. They are perfect for:
Music festivals 
Street performance

Festivals for children

Contests

Soccer games

Sporting events

Massive religious events

Ceremonies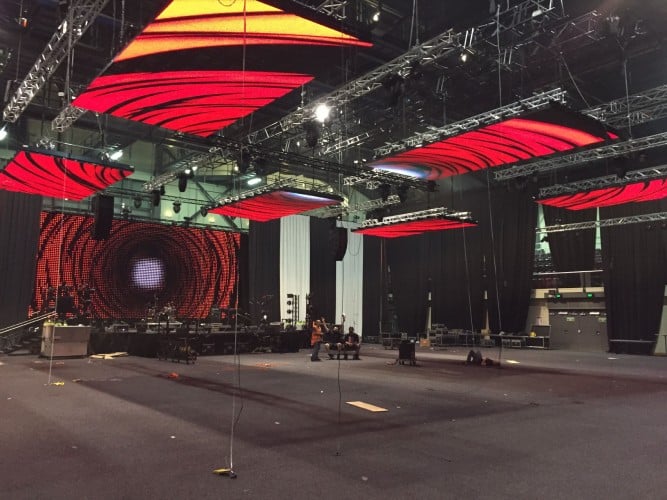 Why are LED panels the best option?
With unstoppable technological development, LED screens have become the best solution also for stage mounting. For that reason, older devices are being replaced with these modern solutions.
Some of its advantages:
They are more economical and sustainable.

They are adjusted to the dimensions required.

Possibility to interact with the audience

Content can be updated without problems

Its versatility makes it possible to transmit all types of content

They are safe, durable and resistant to outdoor conditions.

Unique and unmatched image quality

Can be combined with light shows
In addition, by combining this technology with camera tracking and virtual production tools, unique and infinite experiences are obtained. They can generate changes of scenery in real-time, control light and color and create immersive environments for actors and users while reducing production time and costs.
Truss & Ground Support for LED stage panels
When it comes to the necessary conditions for putting together a stage conducive to this video walls, the first thing you need is a good truss and ground support. It can be staged in a concert hall or theater, or on an outdoor stage.
LED stage displays are transforming the entertainment industry.
This is a large screen that is placed at the back of the stages. 

It can play videos, display images and transmit messages.

It has a low maintenance cost.

Fully customizable.

Excellent image quality

It dramatically enhances the audience's viewing experience, stimulates their imagination and seamlessly blends digital imaging with human performance.
What is needed to install a LED Screen?
A power distribution box, TV controllers, amplifiers, audio matrices, and video processors are required to power a stage display.
Before making a purchase, consider the dimensions and spaces in which it will be installed. In general, different panel sizes are appropriate for different heights and widths, as well as different resolutions.
It should also be noted that the physical size of the screen as well as the pixel resolution will have an impact on how the image is displayed.
What to consider when buying an LED stage display?
The significance of weight: Considering the dimensions of the area where it will be installed, it is best to select a light that can be moved or replaced without major inconvenience.
It should be considered that it can come in pieces or be separated to be stored or moved. This option simplifies these tasks and reduces labor costs, which have a broader impact.

Quality: Because it is a significant investment, the quality of the materials used in its manufacture must be considered.

The price is determined primarily by the characteristics of the type of screen chosen, as well as the company that sells it.

Some businesses provide a free quotation so that the customer can make the best purchase decision.

Equipment: Determine whether the company provides support equipment or a control system for transportation, installation, and commissioning, among other things. The final cost can be calculated by taking these factors into account.
Stage Screen LED panel Company, near you
LED Nation distinguishes itself by providing high-quality products, ongoing support, and exceptional customer service. We provide designs that are distinguished by their elegance, efficiency, and uniqueness.
If you are looking for an specific splicing panels, we can recommend the best models for:
Stages

Theaters

Indoor

Outdoor

Screen panel
We guarantee the best prices and the best quality in the market and will offer the solution to your company's needs and will always be close to you.