Services have powerful messages that need to be clear and precise. In order for the congregation to commit, direct communication must take place. Achieving a longer lasting impression with great visual impact is the answer, and you can accomplish that with giant led screens.
Led Video Wall as a way to attract your audience
The most effective and economical option are led panels. Integrating this cutting-edge technology in a church, in addition to providing visual elements to the service, it allows to fix ideas and communicate news. They are also very useful when exposing the lyrics of songs and, why not, add sponsor announcements for some extra income.
Whether in large or smaller environments, little or very bright light, in an interior space or in an outdoor event, there is an ideal led screen for each type of church that will allow to capture the attention of each one in the audience.
Led Nation, the company specialized in the rental and sale of giant led screens that has reached throughout the USA with more than eleven years of experience, having a large portfolio available and a technical team that will guide the interested party.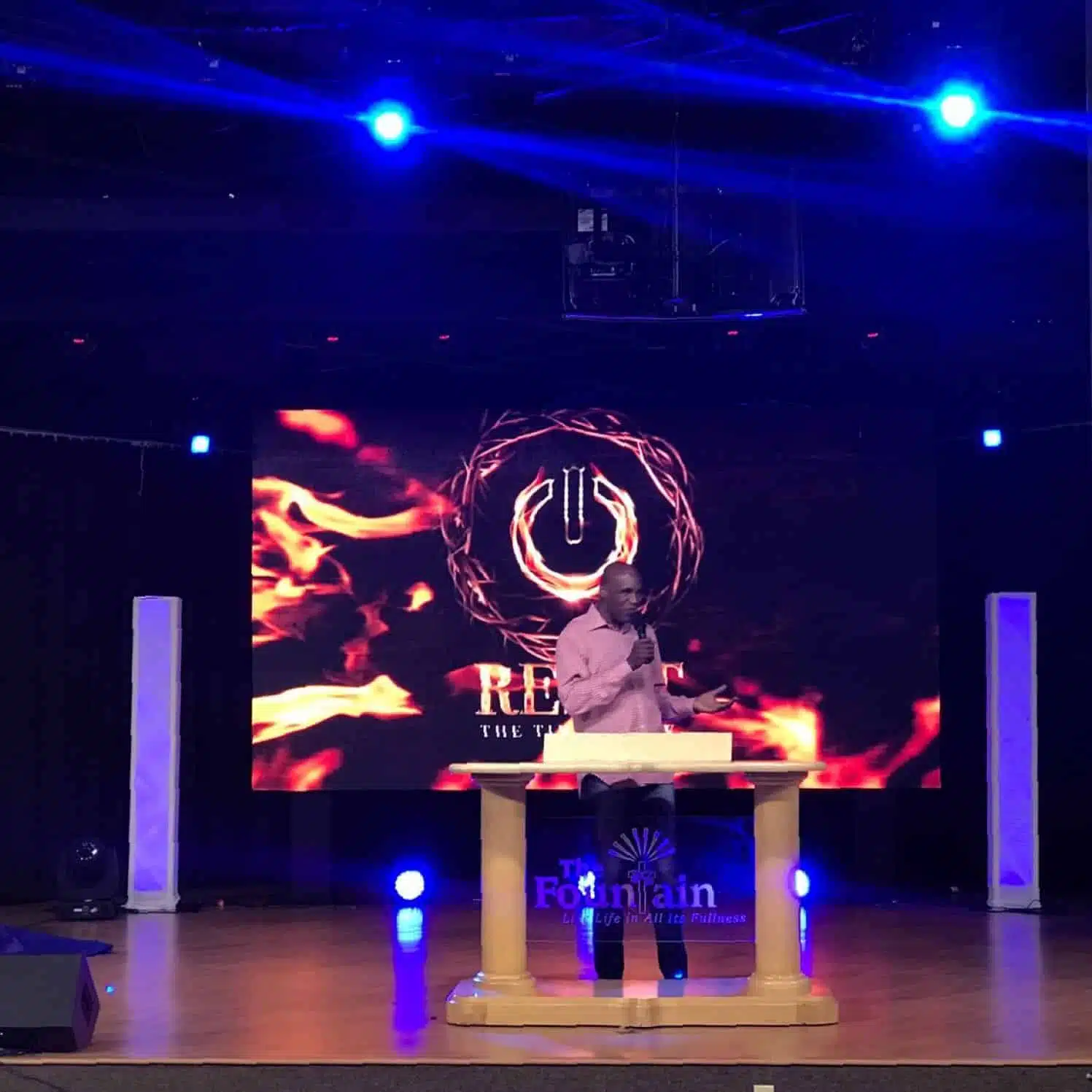 The types of LED Screens indicated for churches
With many adaptable options for any technical and aesthetic requirement, Led Nation has indoor led panels, with plug and play options, divided into four categories, according to their pixel pitch, a specification that is chosen depending on the distance of the audience:
P2.97mm: viewing distance of three meters away.

P3.91mm: viewing distance of four meters away.

P3.91mm Double: viewing distance of four meters apart but with panels twice the width.

P5mm: at an optimal viewing distance of 5 meters.
There are also options when thinking about how to install the screen. You can choose one of these three styles:
Ground support: a base, a connecting bar and a truss ladder are combined to create a stable support, offering flexibility in height and width.
Flying method or rigging: it is necessary that the ceiling has a structure that supports the total weight of the screen.
Wall mounted: some panels can be drilled and mounted on the wall.
Best package for churches
One of the recommendations for churches offered by Led Nation is an ideal pack that is tailored to the classic needs of a house of worship: large Led screen display panels – 25.2´x 9.5´ P5mm for interiors.
These NovaStar P5 panels provide the optimal combination of brightness, fine pixel size, color uniformity, and reliability, making them ideal for churches. They are versatile, allowing them to be used both indoors and outdoors.
Turnkey solution.

Easy installation.

Compatible with terrestrial support (not included in pack).

Technical support available.

Three year warranty on all parts.
Pixel pitch: 5mm.

LED Configuration: 3-in-1 SMD2121 LED.

Pixel density: 192 x 192 per panel.

Size: 37.8 "x 37.8" x 3.5 "/ 960 x 960 x 88 mm.

Number of modules: 18 per panel 320 x 160 mm.

Weight: 62 lbs. / 30.9Kg.
Operating Power: 100 ~ 240V 50-60Hz Max.

Power consumption: 425 W / per panel.

Average power consumption: 240W / per panel.

Power / Data Connections: Power input / output blocking; EtherCon data input / output.
Lifespan: 100,000 hours.

Protection level: IP45 (front and rear)
24 NovaStar P5mm indoor led video tiles.

1 Video processor with HDMI, DVi and VGA inputs.

1 NovaStar Mctrl300 Sending Card.

8 Hanging Rigging Bars.

2 x 25ft Cat6 Cables.

24 Cat6 Data Link Cables.

24 Power Link Cable Locks.

5 Locking power to Edison cables.
Spare parts.
Brightness: 3500 NITS.

Viewing angle: 140 ° horizontal / 140 ° vertical.

Viewing distance: 16 feet.

Brightness adjustment: 0 ~ 100% 100 levels.
Control mode: NovaStar synchronous system with control via DVI.

Frame refresh rate: 50-60Hz.

Scan mode: 1/16.

Refresh rate: 3840Hz.

Support input: Composite, S-Video, Component, VGA, DVI, HDMI, HD_SDI.

Brightness correction: pixel, module, cabinet.
Sale and rental of led screens for House of Worship All Led Nation packages include the most complete service:
Personalized guidance from your technical team.

Transport.

Installation.

Processing system.
It also provides all the guidance when renting a giant led screen. Once the objective is defined, what content will be displayed, what size, shape and location the screen will have, a specialized team of engineers, designers and technicians will evaluate the all elements and create a tailored solution for you.
Same-day quote will be sent to you, which will include transportation, configuration, operation, disassembly of all equipment, and full technical support. Next step will be to analyze all technical aspects of the installation.
Turnkey packages designed for churches
In addition to having the best products with the lowest prices in the country, the power of Led Nation lies in knowing how to interpret the wishes and needs of its customers, which is why its main objective is to transform that vision into reality.
Their team of designers offers a custom led display solution for your church. Whether you are looking to rent screens or prefer a permanent installation, Led Nation offers turnkey packages of
led video wall for churches
. 
Led Nation chooses the right screen, the best wall design for your house of worship, and performs the complete installation.
Some of the utilities and benefits of a giant led screen in a church:
Improve worship ceremonies.

Promotes messages of faith and notifications instantly.

Greater energy efficiency compared to other electronic devices.

Strengthen engagement with the audience.

Quality in the images that add joy to the congregation.

Brings the audience closer by allowing the speaker to see real-time reactions to his sermon.

Live broadcasts.

Video projections.
Other Led Nation services:
After-sales 24/7: a technical team will provide all the necessary information to repair and maintain the panels.

Monthly maintenance: for a low fee you can access this high quality assistance.
How is our service and where we offer it
Led Nation, dedicated to the sale and rental of high quality led screens, has the best prices on the market, offers financing, low monthly payments, same-day quotes, 24-month warranty included, and free shipping to all states from USA:
Alabama

Alaska

Arizona

Arkansas

California

North Carolina

South Carolina

Colorado

Connecticut

North Dakota

South Dakota

Delaware

Florida

Georgia

Hawaii

Idaho

Illinois

Indiana

Iowa

Kansas

Kentucky

Louisiana

Maine

Maryland

Massachusetts

Michigan

Minnesota

Mississippi

Missouri

Mountain

Nebraska

Nevada

New Jersey

New York

New Hampshire

New Mexico

Ohio

Oklahoma

Oregon

Pennsylvania

Rhode Island

Tennessee

Texas

Utah

Vermont

Virginia

W.V.

Washington

Wisconsin

Wyoming
Other Led Nation services:
After-sales 24/7: a technical team will provide all the necessary information to repair and maintain the panels.
Monthly maintenance: for a low fee you can access this high quality assistance.